3 Psychological Benefits of Rhinoplasty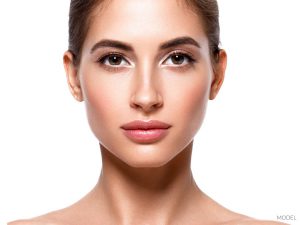 The story of Cyrano de Bergerac is the classic tale of a brilliant poet, set in the romantic city of Paris, 400 years ago. If you haven't heard of him, it's alright. We bring him onto the stage to make a point. Despite his talent for poetry, our dear Cyrano had the misfortune of having a disproportionately large nose. He loved Roxanne but was so ashamed by his nose that he was afraid to be seen by her. All of his Parisian poetry was not enough to bring him out of the shadows. He didn't have the self-confidence and bravery that a gallant swordsman should've had.
He is an excellent example of how our appearance affects our state of mind. Today there are people just like yourself, in The Woodlands, that have lived with a nose that distracts from their beauty, talents, and most importantly – their happiness. Dr. Myers performs rhinoplasty surgery on patients for a variety of reasons; here we would like to address what is not visible – because you know what your nose looks like.
The Facts About Feelings
Unhappy with your nose? That may be the way someone who doesn't need rhinoplasty may put it – "unhappy." That's like saying, "it is chilly outside" when the thermometer has plummeted to sub-zero temps. Perhaps your nose is too large or too small. Maybe your nose has a bulbous tip, or the hump on the bridge of your nose has been the bane of your existence since grade school. The bullies will always find some way to hurt others. It's true that how you feel about your looks affects all areas of your life, so we've listed 3 psychological benefits of rhinoplasty.
Self-Confidence – It's been applied to everything from vehicles to deodorant. But for people in The Woodlands, that term takes on a whole new meaning when they see their rhinoplasty results. Walking into a room with the assuredness that people are noticing everything BUT your nose is priceless. Individuals who have felt trapped behind their noses are shocked the first time they feel true self-confidence.
Social Life – Is sitting at home easier than being the wallflower at a party? When you're embarrassed by your nose, you may tend to isolate. Family gatherings or lunch with a friend may feel like enough, but "the safe side" is not exciting. Another benefit of rhinoplasty is that the self-confidence mentioned above gets you out of your comfort zone. Having a full life with lots of friends or dating, if you're single, will have your calendar filling up more activities than you can shake a stick at.
Loving the mirror – The Woodlands women who have looked at all angles of their noses know that there's isn't any makeup or highlighter that fools the mirror. Men who have grown beards or mustaches as a distraction can't escape the mirror either. After rhinoplasty surgery, get ready to buy a magnification mirror with the brightest lights and see your true self smiling back at you!
Be the Hero in Your Own Story
The Woodlands patients ready to reap the rewards of rhinoplasty, can contact Myers Plastic Surgery today at (936) 539-8115.