3 Ways Breast Enlargement Surgery Can Boost Your Sex Life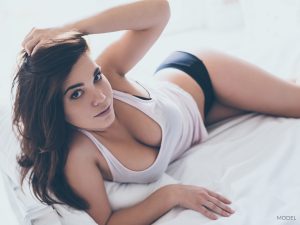 Heres a news flash – It is almost impossible to become aroused when you're in an intimate situation if you are worried about how your body looks. If you feel uncomfortable and unattractive when you're in a sexual situation, you will find it difficult, if not impossible, to relax and enjoy yourself. If your partner has expressed an interest in women with larger breasts, chances are you both bring that knowledge to bed with you, compounding your anxiety. Feelings of inferiority and embarrassment are completely incompatible with sexual enjoyment. Breast enlargement surgery offers The Woodlands women such as yourself a way to enhance – or possibly begin to enjoy what others take for granted – great sex.
Turn Up the Heat
Breast enlargement surgery is for ladies of all ages in The Woodlands, single or not, who want to boost their sex lives. We have made a compelling list of 3 ways that breast enlargement surgery can take your mild sex life and make it sizzling hot!
Getting Noticed – So, we have 2 camps – the single, and the already taken. Here's how breast enlargement surgery can make it easy for any of you to draw his attention – and keep it. When you walk past him in the living room, you want to make him forget what's on TV. And for single ladies, get him to forget about that other woman he's chatting with in the club. There is something incredibly attractive about a woman with firm, perky breasts in a tight little top that can turn a man's head. But if your tee shirt is not filled out how can you get his attention in the first place – and how do you get to the next level? Dr. Myers sees patients in The Woodlands all of the time who rarely get asked out or are as unenthusiastic about their half-hearted sex life as their partner is. After breast enlargement surgery get ready to hear, "Hello darlin'!" and realize that he's talking to you.
Take Mild to Meow – Texas has a well-earned reputation for beautiful women. The Dallas Cowboy cheerleaders and well-endowed ladies in flirty little strapless sundresses with cowboy boots make the whole country take notice. At Myers Plastic Surgery in The Woodlands, we want our patients to feel as proud of their bodies as they do their state. Breast enlargement surgery can bring out the wildcat in even the most demure, shy wallflowers. Having fun in the bedroom – lights on, sexy peekaboo lingerie, and his eyes transfixed on your breasts is a recipe for amazing sex.
State of Mind – Back to the beginning. It's all about confidence, isn't it? If your whole adult life you have hidden your breasts behind baggy clothes and poorly fitted bras, the chances are that experiencing true intimacy is something you've only dreamed of. Breast enlargement surgery changes how you think, feel, and live. When you're confident about how your body looks, your mind will follow, allowing you to become completely present and enthusiastic when making love.
Uninhibited Romance
If your love life has "flatlined" or if you're tired of trying too hard to attract men that won't give you a chance, then breast enlargement surgery can help you turn your fantasies of romance into reality. And never forget – you're worth it!
The Woodlands women ready to discuss breast enlargement surgery, can call Myers Plastic Surgery today at (936) 539-8115 to schedule a consultation.