How Soon After Breastfeeding Can I Get a Breast Augmentation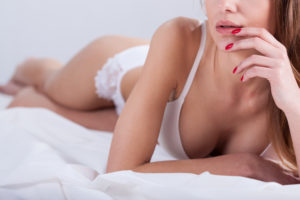 Many mothers in The Woodlands who breastfeed notice that after they've weaned their child, their breasts are deflated and sometimes even sag. This can cause new moms to feel like they don't even recognize their own bodies and desire a breast augmentation to regain the bust they formerly had. One of the most common questions that Dr. Myers receives from new moms is "How long must I wait after breastfeeding before I can get a breast augmentation." The answer is two-pronged.
You Need to Wait At Least 6 Months After Your Milk Has Dried Up to Get a Breast Augmentation
The most basic answer to this common question from The Woodlands moms is that women should wait at least 6 months after their milk has dried up before seeking out a breast augmentation. This is because some milk production can still continue even after your child has weaned, and it's best to make sure that natural process has stopped before inserting silicone or saline implants in your breasts. This is to give you the best possible results, as well as to avoid any potential complications 
For Best Results, You Should be Certain You're Done Breastfeeding Your Children Before Getting a Breast Augmentation
While Dr. Myers understands wanting to get back to your pre-baby body as soon as possible, for the best, long-term results he recommends you are done breastfeeding children before you get breast implants. Make no mistake here – there's absolutely no risk to your little one if you choose to breastfeed him or her after having silicone or saline implants surgically inserted. However, we all know that pregnancy and breastfeeding can dramatically change a woman's body, and future breastfeeding may negate the results you initially achieved after your breast augmentation by The Woodlands' plastic surgeon Dr. Myers, especially if you had both a breast augmentation and a breast lift, which is common amongst new moms. Because Dr. Myers wants you to have results you'll love for years; he recommends you're certain you're done breastfeeding children before getting a breast augmentation after having already breastfed.
The Importance of Breast Augmentations for New Moms
When a childless The Woodlands woman becomes a new mom, she instantly realizes that baby comes before her. This can be extremely draining, both on moms who stay home with their children or working moms who juggle a job and raise their children.
Everyone knows that pregnancy changes a woman's body, but many new moms don't realize how much pregnancy and breastfeeding can change their breasts. Their once full, perky breasts can become deflated and saggy, and make mom feel like she'll never regain the body she used to have.
That's not true. A breast augmentation, sometimes accompanied with a breast lift, can help a The Woodlands mom regain her former bust and provide some serious self-care. And let's face it – all moms need a break now and then!
Call Us For An Initial Consultation
If you're a new mom who is considering a breast augmentation, we want to help you regain your pre-pregnancy shape! Call our practice today to schedule a consultation with Dr. Myers at (936) 539-8115.