Nipple Sensitivity After Breast Enhancement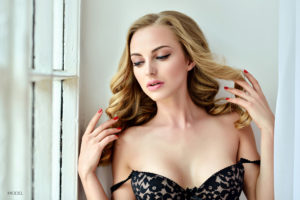 If your interested in having breast enhancement surgery but are worried that you may have to exchange the sensitivity in your nipples to get the gorgeous, voluptuous breasts of your dreams we would like to explain more about the surgery and why it is extremely unlikely that you will have permanent loss of nipple sensitivity.
How Breast Enhancement Affects Nipple Sensitivity
The reason your nipples are more sensitive than other areas of your body is that there are nerves running to them that unlike the skin on your forearm, for instance, are closer to the surface. When women in The Woodlands undergo a breast enhancement surgery, they want to increase their breast size but may not know that if they choose implants that are too big for their bodies, it increases the chances that the nerve will be damaged.
Initially, some The Woodlands patients may experience temporary changes in sensitivity after their breast enhancement surgery, but this doesn't mean that your nerve has been cut or permanently damaged. You may worry that the lack of sensation is permanent, but no matter how well your procedure goes, you may still feel some changes afterward. In the months following your surgery, the nerve that provides feeling to your nipples may stretch while your body is healing. The stretching can make your nipples feel strange, but after you have thoroughly healed, you should not experience any lingering changes to your nipples.
Permanent changes to your nipples after breast enhancement surgery are rare. A very small percentage of patients will lose sensitivity, but that typically doesn't occur unless the nerve was completely severed. What a lot of breast enhancement patients in The Woodlands may not know is that some women experience more sensation after their surgery which is a surprising benefit.
An Informed Patient is a Happy Patient
It is essential that you are informed about any and all possible risks before embarking on your journey. A well-done breast enhancement surgery offers you beautiful looking breasts that feel as good as they look. Gathering the correct information from reputable sources is crucial because there are many myths and half-truths that get tossed around making it difficult to know what's true and what's not. Dr. Myers thoroughly explains all aspects of the surgery during his appointment with prospective breast enhancement patients in The Woodlands, listening intently to their goals and expectations while recommending what he thinks would work best for you. Just as no two women are alike, there are no two breast enhancement procedures that are the same. The best way to ensure you retain the sensitivity in your nipples and get amazing looking results is to consider your doctor's suggestions. If you have unrealistic goals that may end up harming you, such as wanting breast implants that are so large that they could cause nerve damage, it is your doctor's responsibility to guide you in the right direction.
When In Doubt Ask an Expert
We know that you have all sorts of questions and worries, but you can be certain that there is nothing Dr. Myers hasn't been asked or told before, so we encourage all of our patients to communicate exactly what's on their mind. Women in The Woodlands can learn more about breast enhancement surgery by scheduling an appointment with Dr. Myers. Call (936) 539-8115.