Does a Tummy Tuck Scar Leave Visible Scarring?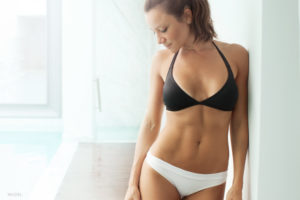 If you're hoping that a tummy tuck, also known as abdominoplasty, can help you achieve a more toned and sculpted abdomen, it's understandable that you also want to make sure the procedure won't leave any visible scarring. After all, once you've achieved the abdomen you want, you're likely going to want to show it off at the lake and the pool while wearing fashionable swimwear!
Men and women in Conroe, The Woodlands, and Houston who want a tummy tuck should rest assured that the scar from the procedure is easily hidden. While a hip to hip incision is required, it's performed in between the pubic hair and the abdomen, with local plastic surgeon Dr. Myers making every effort to hide the incision in the bikini line.
In fact, if you have scars from prior abdominal surgeries, an abdominoplasty may be able to remove those incisions and give you a lower-riding scar.*
Eliminating Abdominal Stretch Marks
While most people in Conroe, The Woodlands, and Houston associate abdominal stretch marks with pregnancy, both men and women can have stretch marks on their tummies from prior weight gain and subsequent weight loss. If you have these marks on your lower abdomen, your tummy tuck incision may be able to excise the skin where some or most of them are present! This means you'll be able to show off your midriff at the lake, the pool, or even a trip to the beach without having these telltale marks of prior weight gain on display.
Excising Prior Abdominal Surgery Scars
Some patients in Conroe, The Woodlands, and Houston, especially women, may have abdominal scars from previous abdominal surgeries that are visible when wearing a two-piece bathing suit. Surgeries like c-sections, emergency c-sections (which require a vertical incision), and hysterectomies may leave visible scars.
While he can't guarantee that he'll be able to entirely eliminate scars from prior abdominal surgeries, depending on your unique case, Dr. Myers may be able to remove or improve the appearance of these visible scars.
Tips to Help Your Tummy Tuck Scar Heal
While the vast majority of tummy tuck scars aren't visible when wearing swimwear, they are visible in intimate situations. To help your scars heal and fade as best as possible, Dr. Myers recommends his patients in Conroe, The Woodlands, and Houston:
Avoid showering or bathing immediately after surgery until cleared to do so. These instructions must be followed to ensure your incision heals properly.
While the incision is healing, call Myers Plastic Surgery immediately if there is excessive bleeding, any discharge oozing from the incision, or if you develop a fever.
After the incision has healed, always wear sunscreen on it if it's going to be exposed to the sun.
Once the incision has healed. Dr. Myers will counsel you on over the counter scar treatments and scar massage.
Schedule a Consultation with Dr. Myers Today
If you're considering abdominoplasty surgery, your next best step is to schedule an initial consultation with Dr. Myers of Myers Plastic Surgery. And if you're worried about the appearance of the procedure's resulting scar, make sure to discuss this concern with Dr. Myers during your appointment.
To meet with Dr. Myers, call our plastic surgery practice in Conroe today at (936) 539-8115.
*Individual results may vary.