How Breast Enhancement Improves Emotional Well-Being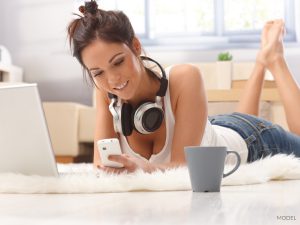 Women who have never felt "less-than," inadequate, or embarrassed about their breasts won't relate to this at all. When they try on a new top or a pretty bra in the dressing room, they're only concerned with the color or price. The good news for women in The Woodlands who are unhappy with their breasts is that there's a solution. Of course, we are referring to breast enhancement surgery and how it can dramatically improve your emotional health.
Mind and Body Connection
Your appearance directly affects how you think and feel. So naturally, if you think your breasts aren't beautiful, you're going to feel unhappy. Breasts are closely tied to femininity, intimacy, and womanhood. The Woodlands women who suffer from asymmetrical breasts, tuberous breasts, breasts that are too small or have lost their fullness due to pregnancy know that – for you – this is more than just a cosmetic issue.
A New Way of Thinking
Through breast enhancement, Dr. Myers has helped women just like yourself feel beautiful, often for the first time in their lives. Enjoying life to its fullest is what we're talking about. Use your imagination to direct your thoughts while we take you on a journey into the future. First, how incredible would it be to love how your look? Take a moment to let that sink in. To feel comfortable and sexy taking your bra off in the most intimate situations. To go shopping and spend 5 delicious minutes just staring at your reflection –  suddenly realizing your shoulders are back, your back is arched, and you're smiling!  Some patients in The Woodlands who have breast enhancement surgery to correct genetic conditions such as asymmetry or tuberous breasts are surprised at how drastically their whole outlook on life changes. There is no dollar amount you can put on improving your quality of life. We hear it all of the time, "the mind and body are interrelated." So, let's get back to imagining. You're at the pool or the beach; it's a hot, blue-sky kind of day. You take off your cover up, and wow! You are owning this day. It isn't about who else loves how your breasts look; it's about how YOU love what breast enhancement has done for your body, and more importantly your self-worth.
Make It a Reality
This doesn't have to be a fantasy. Women in The Woodlands are one phone call away from improving their well being through breast enhancement.
We recognize this is a serious and sensitive subject for our The Woodlands patients. Each woman is unique, and every situation is different. There is one thing that every woman who walks into Dr. Myers office has in common. She wants to be understood and validated. But above all, women have to be able to trust and have confidence in his abilities as a surgeon. Dr. Myers is highly respected for his unsurpassed attention to detail, his unwavering integrity, and an understanding of why discretion is of utmost importance to his breast enhancement patients.
Call our offices in The Woodlands area at (936) 539 – 8115 today, and let a member of our professional, well-trained staff help schedule your consultation.