How Long Should I Wait To Have Sex After Getting Botox?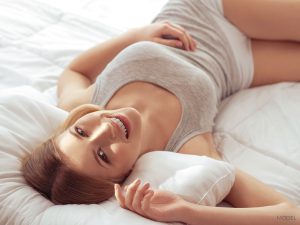 Wow! You've had such an exciting day. You are eager to rush home to your partner and discuss the whole experience and what your results will look like a few days from now. You probably listened to Dr. Myers intently about what you can, and cannot do after getting Botox. Including how long you should wait to have sex after your procedure. And you do have every intention of following his instructions to the letter by abstaining for 24 hours. But, human nature doesn't always follow instructions or abide by common sense. As the saying goes, the heart wants what the heart wants. If you and your partner have not discussed this important topic in advance, you may just find that an innocent flirtation or embrace takes you by surprise and straight into the bedroom. This could lead to a costly and regrettable decision made in the throes of passion, zapping all of the pizzazz out of last nights magic.
Why Wait 24 Hours?
After your procedure with Dr. Myers in The Woodlands, you are required to rest. This, of course, means no sexual activity. Do not do any physical or aerobic activities for 24 hours, as any increased blood flow to the face may alter the effects of Botox. Perhaps your idea of physical activity is jogging or extremely vigorous exercise. But even the mildest forms of exertion can impact your results. Dr. Myers suggests that his patients remain upright for 4-5 hours immediately following their procedure, as lying down may alter the effects and undo your results. Both you and your partner should establish a "hands off the face" policy – kissing counts too.
Patience Pays Off
Worth the wait? Absolutely. Patients who receive Botox injections from Dr. Myers in The Woodlands enjoy all of the delightful benefits that this safe and simple procedure offers and that includes spicing up your love life. When you look dynamite and feel confident, it's contagious. Nothing is more alluring than someone who knows they look amazing – in and out of the bedroom. If you are ready to take your relationship to the next level, a simple 24-hour time-out should not be difficult. Botox smoothes out those unpleasant wrinkles on your face and neck. Maybe it's crows feet, or frown lines that are making you look tired and angry. Being able to look into the mirror and see a smooth forehead and a refreshed, vivacious new you will have you glowing from the inside out.
Don't Wait To Feel and Look Your Best
Whether you are in a long term relationship, are just dating, or are single and available, everybody wants to feel desirable and attractive. With this being said, any cosmetic procedure is a very personal matter that requires the utmost discretion, and Dr. Myers in The Woodlands is acutely aware of how important this is to his clients.
If you want to look refreshed and get that sparkle back in your eyes, then call our offices in The Woodlands area at (936) 539-8115.